Travel
Lighter, Faster, Easier: The Complete Packing List and Guide to Ultralight Travel
---
This page shares my complete ultralight packing list, my favorite pieces of travel gear, and my thoughts on why it's better to travel the world with just one bag.
I have traveled to more than 20 countries so far. Along the way, I have slowly optimized and improved my packing list and travel strategy. My hope is that this packing list will help you master the art of packing light and eliminate the unnecessary items that we often drag around on our travels, but never actually use.
Before we dive into my full list, I think it is important to note that I began traveling long before I had any of the items on this packing list. You don't need anything on this page to travel. All you need is the courage to explore.
I. How to Travel the World With One Bag
The 3 Rules of Packing Light
II. The Best Travel Gear
Everyday Carry
Best Travel Backpack
Best Travel Camera
Best Travel Laptop
Best Travel Accessories
III. The Best Travel Clothes
Best Travel Jacket
Best Travel Underwear
Best Travel Socks
Best Travel Scarf
Best Travel Hat
Best Travel Gloves
Best Travel Sunglasses
IV. Additional Items
Optional Travel Gear
Best Travel Toiletries
Best Travel First Aid Kit
Best Travel Apps
Acknowledgements
I. How to Travel the World With One Bag
You need less than you think you do. That's true for travel and it's probably true in life as well. Certainly, you'll need to pack more than just your wallet, keys, and phone, but generally speaking I believe we are better off packing less and trusting ourselves more.
However, it is important to note that I'm not interested in practicing minimalism to the point of limiting my joy or handicapping my travel experience. I want to travel comfortably and live well. My goal is not to pack the least amount of things, but the optimal amount of things.
With this in mind, there are 3 rules that drive my ultralight travel philosophy:
Carry less stuff. I strive to ruthlessly eliminate items that are not essential to my enjoyment on the road. In my experience, ultralight travel allows me to spend more time focusing on the things that make travel great — the people, the places, the food — and less time worrying about what I'm carrying.
Reduce weight, not usefulness. I refuse to carry things that are not useful. When faced with two useful options, I will select the one that is lighter or better designed. Whenever possible, I opt for items that have multiple uses because this reduces weight and complexity. I try to carry items and wear clothes that are flexible enough to cover all of my needs.
Travel with comfortable resilience. I'm not interested in melting deodorant into chapstick tubes for lightweight travel. (People actually do this!) I'm not interested in wearing a 10-zipper pant or a 15-pocket travel sweatshirt. I'm resilient enough to realize that I don't need many things, but I want to feel comfortable in my travel gear and use everyday items the way I normally use them. This makes me feel more at home on the road and more confident in unfamiliar environments.
My packing strategy is a combination of simplicity, design, and functionality. Carrying less stuff is about simplicity. Maintaining usefulness while reducing weight is about functionality. Traveling in comfort is about design. I don't need many things, but I love the look and feel of the things I do carry.
II. Best Travel Gear
Everyday Carry
Everyday Carry (commonly called EDC) is a phrase that refers to items you carry on a consistent basis that assist with everyday needs. For example, your wallet, keys, and phone are common everyday carry items. Your everyday carry is the first place you should optimize for ultralight travel because these items are always with you.
Here are the items in my everyday carry:
iPhone 6s Plus – The first thing you'll notice about this phone is the size. It is huge. I upgraded from a much smaller phone and it took me about a month to get adjusted to the size. Now I can't imagine going back. In addition to the increased screen real estate, the size also allows for a larger battery. A full charge will last me more than a day with heavy use and about two days with light use. The camera is excellent, which is a bonus for traveling. If I forget my main camera, I know I can still get a decent shot of something if I come across a great scene. Finally, because the screen is so large, I boughta mobile keyboard to use with it. When I want to travel at lighter-than-air weight, I can leave my laptop at home and just use the phone and keyboard to handle most tasks.
Incipio NGP iPhone Case – Most cases are too bulky for my taste or too thin to provide ample protection. This case offers the best of both worlds. It is very slim and doesn't make the iPhone feel bulky, but it also provides good all around protection. It also has a slight lip that extends above the edge of the iPhone screen, which reduces the odds of the screen getting cracked or scratched. To top it all off, it is very affordable and comes in a range of colors.
Minimalist Wallet by Capsule – I have used this minimalist wallet everyday for three years and I absolutely love it. It's the best combination of slim profile, clean design, and practical functionality that I have found. It fits easily in my front pocket where it is safe and secure. It can hold bills of all sizes (USD, Euro, GBP, etc.), which makes it great for travel. It has a front sleeve where you can place your most heavily used credit cards and an internal sleeve where you can store seldom used cards like your driver's license, health insurance card, and so on. My biggest fear with the Capsule wallet was that bills would just slide out of the cash strap, but I've never had that happen. I own three different versions and they are all great, but the Blacktie is my favorite. The only downside of this wallet is the high price. Personally, I think it's worth the money. However, a more affordable alternative is the Saddleback Leather Sleeve Wallet (although it can't hold bills).
Chase Sapphire Preferred credit card – Quite simply, this is the best travel credit card on the market. There are no foreign transaction fees, which means that you can use it anywhere in the world at no extra cost to you. The Sapphire Preferred earns 2x points on dining at restaurants around the world and all travel purchases like airfare, hotels, and trains. Even better, those points are actually worth something because the Chase Ultimate Rewards program allows you to redeem your points on a wide range of airline and hotel partners. To top it all off, Chase Sapphire Preferred customers get a dedicated customer service line. Each time I call, I'm surprised by how much better my experience is with the Sapphire Preferred customer service team than with my other Chase cards. If you're only going to get one travel credit card, get this one.
Keys – I usually drive to the airport and I figure if my keys are making the trip anyway I might as well make the most of them. On a single key ring, I carry my house, car, and mailbox keys. I also carry a DoohicKey multi-tool, which I prefer over other key ring tools because it lays flat. It can be used to open boxes, tighten bolts and screws, and pop bottles. I also attached a tiny LRI Photon Freedom Keychain Light, which takes up virtually no space and can act as a backup flashlight in an emergency. (It's also handy to have a light on your keychain if you're walking to your car at night or searching for something that fell between the car seats.) Although the rest of my everyday carry items go in my pockets, my keys usually stay tucked away in my bag when I'm traveling.
Passport – If I'm traveling internationally I'll carry my passport as well.
Best Travel Backpack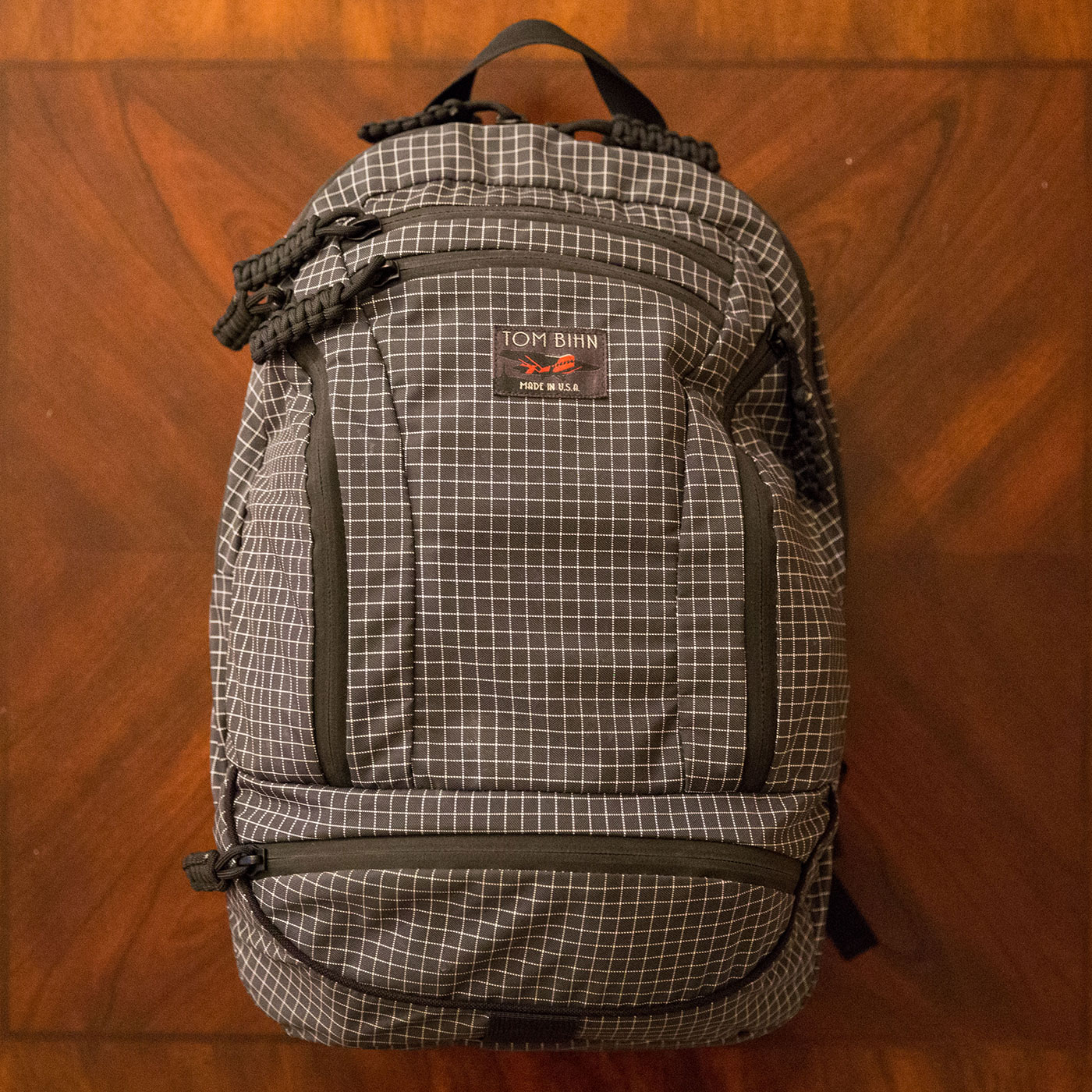 More than anything else, the size of your bag determines how you pack. If you bring a bigger bag, you'll fill it. If you bring a smaller bag, you'll cut out the stuff that doesn't matter. For me, the bag that offers the perfect blend of size and simplicity is the Tom Bihn Synapse 19.
Tom Bihn Synapse 19 – At just 19 liters, the Tom Bihn Synapse 19 is small enough to fit under my seat on any airplane, which means I never have to part ways with my gear. In fact, it's light enough that I can carry it around fully packed without much hassle.
For example, the Synapse 19 was my only bag during a two-week trip to Morocco. One afternoon, I took the train from Marrakech to Casablanca and arrived about one hour before sunset. I wanted to take photos in the evening light, so rather than go straight to my hotel and drop my stuff off, I hopped off the train and walked around town. I wore the Synapse 19 the entire time, took photos while the light was good, and went to the hotel a few hours later. Imagine doing that with a piece of carry-on luggage. What would I have done? Roll the bag all over town with one hand and while holding my camera in the other? You can't have that type of flexibility without an ultralight bag.
The portable size is just one feature of the Synapse 19. It's the organization of the bag that really makes it worthwhile. You see, your luggage is the "home" for all of your belongings on the road. When you travel (especially internationally or to multiple destinations in one trip), you need a bag that keeps you organized.
When it comes to organization, the best travel backpacks solve two problems:
The most frequently used items should be in the most accessible locations. When I'm sitting in the airport, I don't want to dig through all of my clothes just to find my phone charger or sunglasses. With the Synapse 19, I'm able to store regularly used items in the outer pockets and use the main compartment to store things I won't need until I get to the hotel.
Items that are related in my mind should be close in physical proximity as well. With the Synapse 19, I have a separate compartment for computer cables and chargers. I have all of my outerwear in one pocket away from the rest of my clothes (in case they get wet). I have all of my toiletries in one pocket. This type of logical organization isn't always possible, but it can make life on the road a little easier.
The Tom Bihn Synapse 19 solves these two problems with ease.
Backpack Organization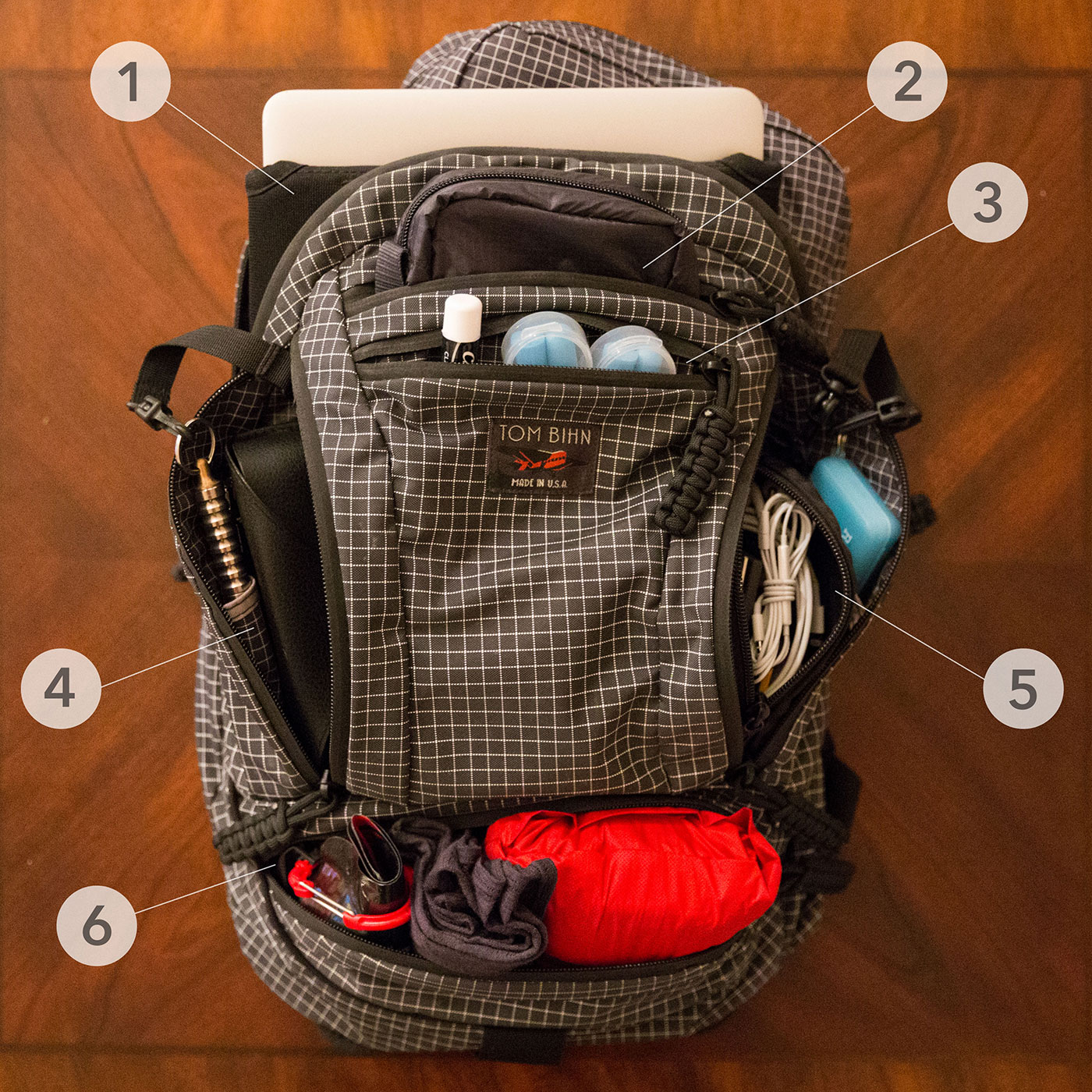 Here's how I divide my items within the Synapse 19:
Main compartment – Clothes packed inside Tom Bihn packing cube, Laptop packed inside padded sleeve (or a mobile keyboard if I'm traveling without a laptop), sleep mask
Upper center pocket – Toiletry kit, Camera charger
Lower center pocket – Ear plugs (2x), Keys, Chapstick
Left pocket – Sunglasses, Pens (2x), and Prometheus flashlight attached to backpack via a keystrap
Right pocket – Computer cables, adapters, headphones, and Fluxmob charger all packed inside Tom Bihn Q-Kit and attached to the backpack, 128GB SanDisk camera memory cards (4x) packed inside a Rugged memory card case and attached to the backpack via a keystrap
Bottom compartment – Rain jacket, Wool Buff, and water bottle
Alright, let's talk about the travel gear I pack inside this amazing bag.
Best Travel Camera
Canon 6D – Taking high-quality photos is important to me. After doing travel photography and street photography in over 20 countries, the Canon 6D is the best camera I've owned. It has nearly all the functionality of the 5D, Canon's flagship model. At the same time, it weighs less and takes up less space, which makes it perfect for travel. It can deliver incredible photos in nearly any situation. Some of my favorite bonus features are the customizable pre-sets and the ability to send photos directly to my phone. I can pack the 6D in the main compartment of the Synapse 19 when I need to, but I usually have it hanging around my shoulders and ready for action.
Canon EF 24-70mm f/2.8L II lens – This is the lens that many professional photographers use. It has been a favorite of many National Geographic photographers because of its versatility. This lens is wide enough to take beautiful landscape images and it can zoom in close enough to create fantastic portraits. When combined with the 6D camera body, you have a powerful and versatile setup. (I also own a Canon 40mm f/2.8 lens, which is one of the smallest lenses you can get for this camera and comes in handy when I want to pack even lighter than usual.)
Peak Design Slide Camera Strap – One of the reasons I prefer a backpack over rolling luggage is that it keeps my hands free. Having a good camera strap serves the same purpose. Before owning this camera strap, I would carry my camera in my hand all day, which not only restricted me to one hand, but also wore me out over the course of the day. With the Peak Design Camera Strap, I can take a photo and slide the camera out of the way so that it hangs by my side or behind my back. I also like this camera strap because it is wide and comfortable, which means it doesn't dig into your skin throughout the day like thinner straps.
SanDisk Extreme Pro 128GB (4x) and Ruggard Memory Card Case – If you're going to take a lot of photos while you're traveling, this is the simplest and lightest way to store them. I use four 128GB memory cards (which are much lighter and smaller than an external hard drive) and store them in a Ruggard Memory Card Case. As I fill each one up, I swap it out for a new one. With this much memory, I can take well over 15,000 photos without having to worry about deleting anything. I also upload the images to my laptop, so I have the photos stored in two places.
Best Travel Laptop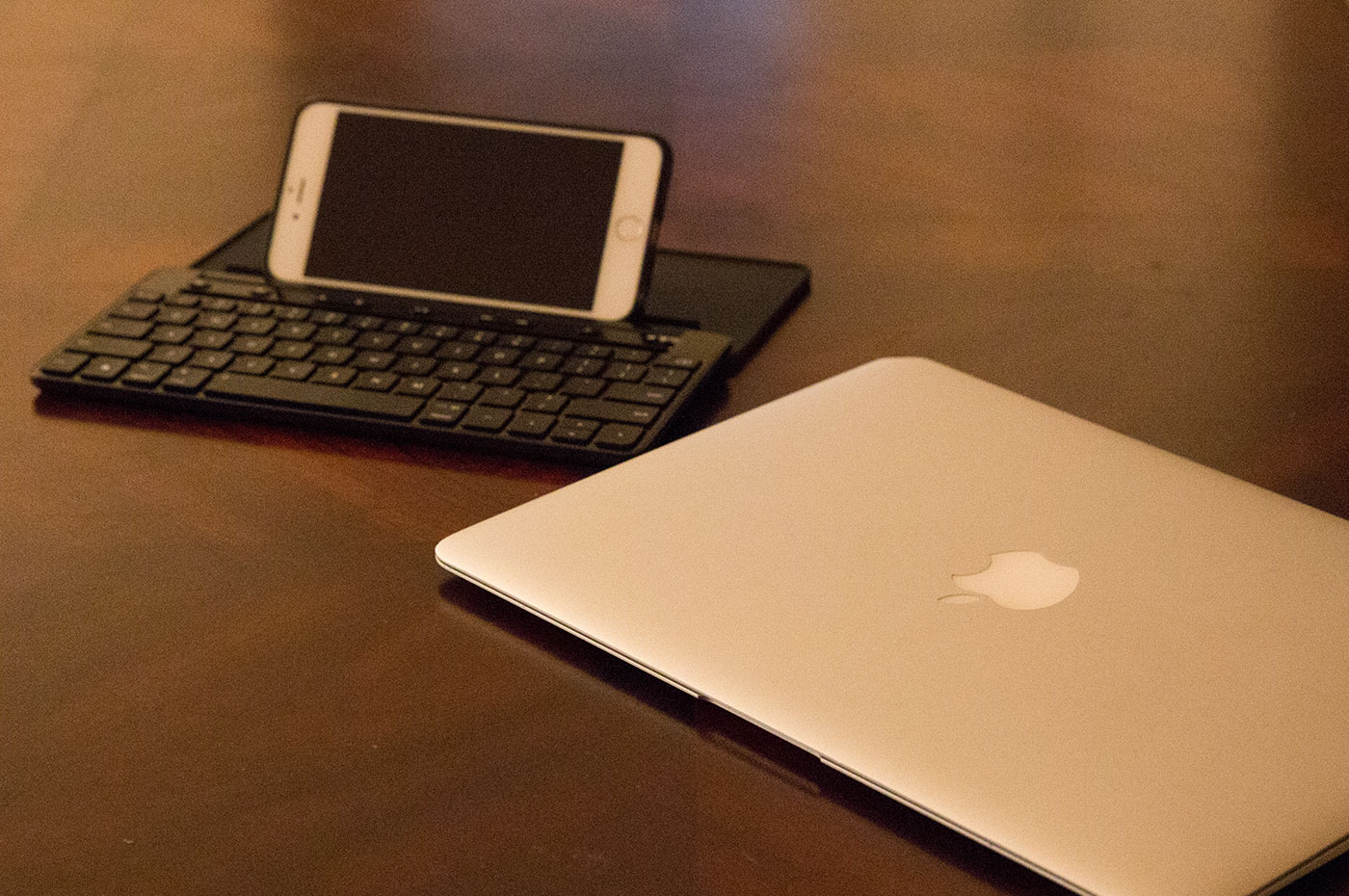 12-inch Macbook laptop – Technically, I own the 13-inch Macbook Air (which I love), but if I were buying right now I would get the 12-inch Macbook. Either way, these are wonderful lightweight laptops. While traveling, I store mine inside the Tom Bihn Cache, which is a padded laptop sleeve. This laptop sleeve clips into the main compartment of the Synapse 19 backpack and can slide in and out easily when you go through airport security.
Microsoft Mobile Keyboard – If I want to travel even lighter than usual, I will leave my laptop at home and toss this tiny keyboard in my bag. One of the features I like most is the keyboard cover, which opens up to become a stand for my smartphone. The stand can also detach from the keyboard, which means I can set up my phone a flat surface and hold the keyboard on my lap as I type. By combining this keyboard with the huge screen on my phone, I can respond to emails or even write articles fairly easy, which are two tasks I would rarely bother with if I had to type exclusively on my phone.
Best Travel Accessories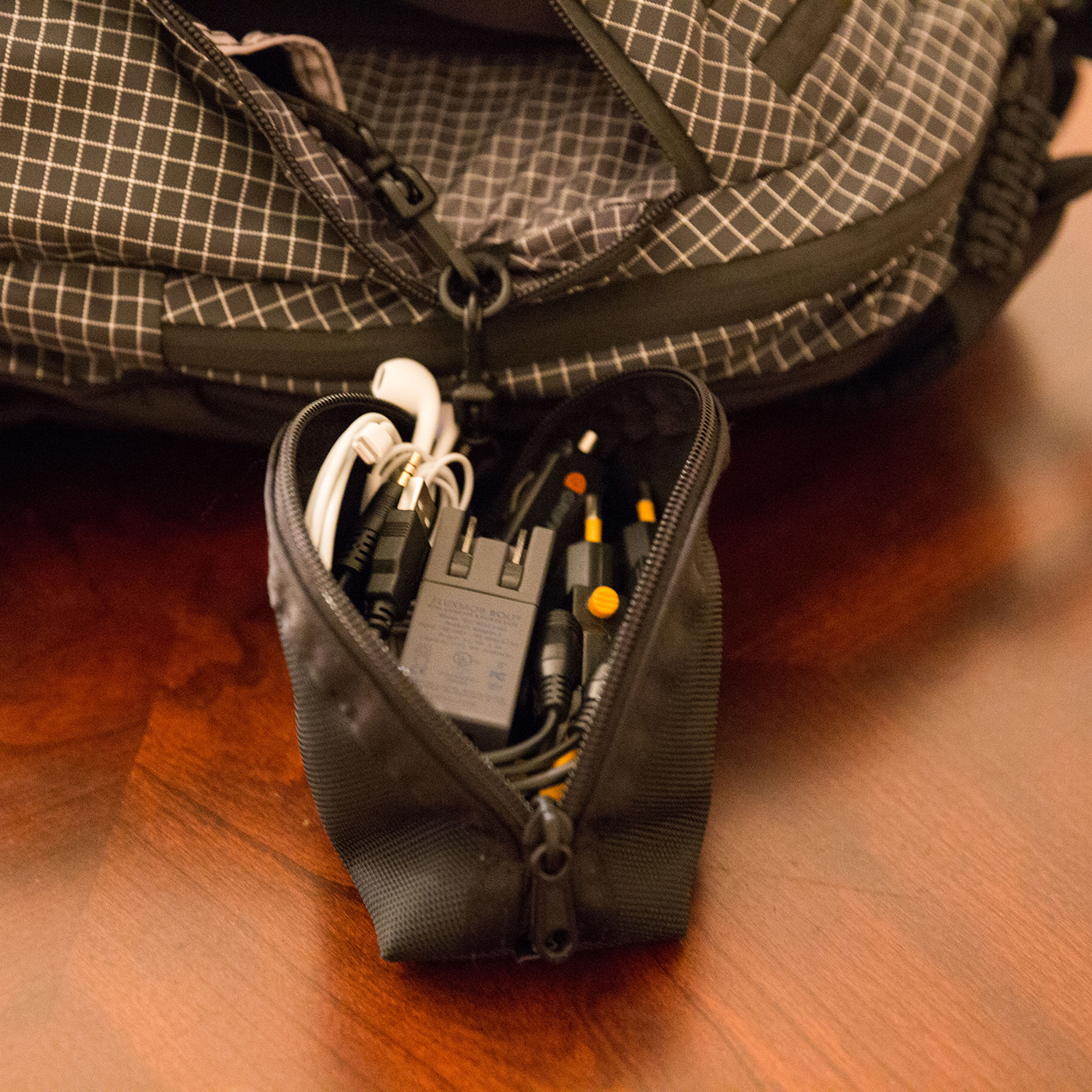 Tom Bihn Q-Kit – As I mentioned previously, organization is important when traveling. At first, I just stuffed all of my cords, adapters, and headphones into the right pocket of the Synapse 19 backpack. The problem was that something would usually fall out when I opened the pocket. The Tom Bihn Q-Kit helps solve this problem by keeping all of my cords tucked away in a neat little pouch. It also clips into the O-ring inside the right pocket, which makes it less likely I'll randomly lose a cord.
Bucky 40 Blinks Sleep Mask – When I was a kid, I always thought people who wore sleep masks looked silly. Now, I think they are geniuses. I wish I had bought a sleep mask years ago. Getting good sleep, especially on long international trips, is essential to having a good time while traveling. A sleep mask makes this task much, much easier. This one is affordable and works very well.
Hearos Extreme Ear Plugs (2 pair) – I would say that these ear plugs and the sleep mask mentioned above the two most underrated travel items you can carry. I can pop these in my ears and pull the sleep mask over my eyes and take a nap in many places where sleep would otherwise be impossible. I also find them useful for cutting out the background noise when I'm trying to get work done. I pack two pairs and store each set inside a MUJI earplugs case in the top center pocket.
Prometheus Beta-QRv2 flashlight with Tom Bihn Key Strap – Having a light source can be very important when you travel. Unfamiliar locations are hard enough to navigate in the daytime. You certainly don't want to stumble around a new place in the dark. I carry the Prometheus Beta-QRv2 and I'm going to make a bold statement and say that it is the best travel flashlight in the world. Why? First, it is remarkably small and light (imagine a pen in width, but only half the length). Second, it has two useful settings (high and low) and it can stand on its end (like a lamp). Third, it runs on one AAA battery. I use Eneloop rechargeable AAA batteries, but if you run out of juice on the road you can just buy any AAA battery. I also have two backup "flashlights" if I need them: the flashlight function on my smartphone and the LRI Photon on my keyring.
FLUXMOB BOLT2 Portable Battery and Power Adapter – This is the best portable battery charger I have used. What makes the Fluxmob Bolt2 so useful is that it is a combination power adapter and portable battery. It can be used to charge your phone and, once the phone is fully charged, it will begin charging the battery built into the adapter. I tried other battery packs like the Anker Astro Mini and they worked just fine. However, I would always forget to recharge them and an extra battery isn't very helpful if it's out of juice. For that reason, I prefer the Fluxmob Bolt2 because it makes it easy to always have a fully charged backup battery on hand. I keep the Fluxmob Bolt2 stored inside the Tom Bihn Q-Kit in the right pocket.
Kikkerland UL03-A Universal Travel Adapter (2x) – I didn't know this until I traveled internationally, but there are many different outlet styles around the world. You need an adapter to fit your North American plugs into European or Asian or South American outlets. It seems like an easy problem to solve, but most adapters are heavy and bulky. This added weight causes many adapters to gradually slide out of the outlets you plug them into. The only adapter I've found that keeps a low profile and consistently stays into outlets of all styles is the Kikkerland UL03-A Universal Travel Adapter. I carry two of them inside the Tom Bihn Q-Kit in the right pocket. (Hat tip to Tynan on this one. I never would have found this without his recommendation.)
Headphone Splitter – It's nice to share a movie or TV show with a friend during a long day of travel. I keep the headphone splitter stored inside the Tom Bihn Q-Kit in the right pocket.
Griffin PowerJolt Flat USB to Car Charger Adapter – This is the smallest USB to car charger adapter I have found. I rarely have to use it, but it can be a lifesaver when you need it. I keep this adapter stored in the Tom Bihn Q-Kit in the right pocket.
6-inch USB Mini cable – Most USB cables are much longer than they need to be. This little 6-inch USB mini cable is the smallest one I could find. I use it to connect my Canon 6D camera to my laptop and transfer photos to my computer. I keep this tiny guy tucked away inside the Tom Bihn Q-Kit in the right pocket.
uni-ball Jetstream Bold Point pen (2x) – Let's be honest: getting this pen isn't going to change your life. For years, I used whatever pen was around and things worked out just fine. However, there are actual people who are pen experts and they all swear this pen is the best value on the market. I thought it was all hype, but after using it for two days I was sold. It is an excellent pen for the money and it has the added benefit of using a special ink that soaks into paper and makes it more resistant to forging and theft when used to write checks and sign documents. Again, not a life-changing device, but if you're willing to spend $2-$3 on a pen then this is probably your best bet. For what it's worth, I prefer the 1.0mm bold point version in black ink.
Headphones – I just use the standard headphones that come with my iPhone. I do love music though, so I may upgrade soon.
III. Best Travel Clothes
It can be easy to waste a lot of money on travel clothes. Most pieces of specialized travel clothing are not worth the money. Meanwhile, the things that are worth paying extra for are rarely the items that you hear about.
The simple truth is the extra pockets and additional features that get people to buy travel clothes are rarely used in the real world. If you have a good bag like the Synapse 19 and a well-thought out packing list, then you don't need a jacket with a built-in pillow or pants with 11 pockets. Your everyday carry items (wallet, phone, passport) can go in your pockets. Everything else is better off in your bag.
So what are the travel clothes that are worth investing in? In my experience, there are two categories.
The first category includes items that sit closest to your skin. I'm talking about socks, t-shirts, and underwear. If these items fail you—especially your socks—you can end up with blisters and you'll be hobbling along painfully during your dream trip. Furthermore, these pieces of clothing soak up the most sweat during the day. Having quality items made out of wool or similar odor-resistant fabrics can make your trip more pleasant for everyone. In my opinion, these items are worth the extra money.
The second category includes items that handle the bulk of bad weather and also tend to take up space. I'm talking about jackets, hats, and scarves. If your rain jacket leaks, you're wet and unhappy. If your winter jacket is overly big and cumbersome, it can be a huge pain to carry it everywhere. If you don't have a versatile hat and scarf, then you'll end up feeling cold on planes, on hikes, and on windy city streets. In my experience, it is worth it to pay extra for items that will keep you warm and dry while being lightweight and layering well.
Here are the best travel clothes I have found so far. (Note: Given that I'm a man, I have naturally stuck to reviewing only men's travel clothing.)
Best Travel Jacket
Outdoor Research Helium II Jacket – This is an amazing ultralight rain jacket. It packs into itself and can fit into the palm of your hand. I toss mine in the bottom compartment of the Synapse 19 and it doesn't even take up half of the compartment. Despite its thin fabric, it is very waterproof. I've worn it in 4 straight hours of rain and stayed dry. The hood is also surprisingly well-shaped and effective at keeping water off your face. My only complaint with this jacket is that it only has one chest pocket and no hand pockets, but such is the price for an ultralight rain jacket. I also own the Marmot Precip. While not as small and lightweight, it does have hand pockets and is more affordable.
Patagonia Down Sweater Jacket – This down jacket is what I wear when the weather gets cold. If it's windy, rainy, or snowy, they you can use the rain jacket mentioned above as a shell on top of this jacket to create a warm, waterproof combination. When I'm not wearing this jacket, it can pack down into the bottom of the main compartment of the Synapse 19 without a problem. Plus, it comes in a great range of colors and is built with Patagonia's usual commitment to sustainable quality. If you want to save even more weight, there are lighter down jackets out there like thePatagonia Nano Puff and the Mountain Hardwear Ghost Whisperer, but they aren't as warm. I think the Patagonia Down Sweater Jacket offers the best combination of design and functionality.
Best Travel Underwear
ExOfficio Give-N-Go Boxer Brief – The best travel underwear you can buy. I'll leave it at that.
Best Travel Socks
I am completely addicted to wool socks. They keep my feet dry, they are odor resistant, and they last a long time. I don't even own any cotton socks anymore.
Darn Tough Standard Issue Socks – I've experimented with many wool sock brands, but Darn Tough makes the best socks I have ever tried. Their Standard Issue sock is a great everyday pair that can be used with a business casual look in the office or jeans and a t-shirt. (Although I prefer Darn Tough, the SmartWool City Slicker Socksare a great alternative as well.)
Darn Tough Mountaineering Socks – These are my favorite heavyweight wool socks. If you are traveling somewhere cold, I would bring these socks without a second thought.
Darn Tough No Show Socks – Another Darn Tough offering. These wool socks are great to wear in hot environments and during exercise.
Best Travel Scarf
Wool Buff – The Wool Buff is one of my favorite pieces of travel clothing. This simple tube of wool fabric can be adjusted to act as a scarf, a ski mask, a watch cap, a bandana, and more. (I typically use it as a scarf or as a watch cap.) It's great to have this extra layer to throw on when you're feeling cold while traveling.
Best Travel Hat
Arc'teryx Rho Wool Beanie – This wool beanie packs down so small that I often forget that I have it tucked away inside the pocket of my Patagonia Down Sweater Jacket. Even if I'm headed somewhere warm, I always have this hat packed because it takes up such little space and it's nice to have something to throw on if the plane is cold. You can also pair it with the Wool Buff mentioned above to create a two-layer hat that is pretty warm. The one downside is that it is expensive, but I find that I use it frequently enough to justify the cost.
Wigwam Wool Watchcap Beanie – This is the wool hat I bring if I am headed somewhere cold. It is incredibly warm and the wool resists odor, but doesn't make my head feel itchy. It is also remarkably affordable. In my opinion, it is better than many hats that are three or four times the price.
Best Travel Gloves
Icebreaker Sierra Gloves – My hands get cold easily, but I never wanted to carry gloves because a big, warm pair is bulky and hard to pack. Moreover, I tend to shoot a lot of photos when I travel and bulky gloves make that hard to do. I didn't want to be taking my gloves on and off five hundred times each day. Thankfully, the Icebreaker Sierra Gloves solve the problems. They are lightweight and easy to stuff into my jacket pocket, which is where I usually store them. These gloves are also thin enough that I can use my camera and use the touchscreen on my iPhone without taking them off. Most importantly, I'm surprised by how much of a difference these tiny gloves make. Compared to not wearing gloves, they are a significant improvement. I've wore these gloves in temperatures as low as 21 degrees (-6 degrees Celsius), but that was a bit cold. I would recommend them for any weather above 32 degrees (0 degrees Celsius).
Best Travel Sunglasses
Ray Ban Caravan or Ray Ban New Wayfarer – Most sunglasses will fit easily into the left pocket of the Synapse 19. I only pack one, but these classic styles from Ray Ban are two of my favorites.
IV. Additional Travel Gear
Optional Travel Gear
A good book – Long flights and lots of waiting time make your travels the perfect place for reading. You can browse my recommended reading list for over 100 good books to read across a wide range of categories.
Custom paracord zipper pulls – The standard zipper pulls on the Synapse 19 are great. They work well and there's no reason any normal person would remove them. Of course, I am not a normal person, so I swapped out the default zipper pulls for custom ones that I made with paracord. I created seven 3.25-inch zipper pulls by weaving about 3 feet of paracord into a tight pattern for each one. In total, this gives me about 21 feet of paracord to use in an emergency. Paracord can be used as a substitute for a broken shoelace, to tie down gear, to create a clothes line, and even to secure a makeshift splint or tourniquet. In all likelihood, they will always be used to open zippers, but I have added versatility without added weight. Plus, customizing my bag makes me feel a little bit more like James Bond.
Snow Peak titanium spork – Laugh all you want, but I really like this spork. I've actually used it multiple times. For example, you might order room service and they will forget to bring you silverware. Or, you'll go to the grocery store in a foreign country, carry the food back to your room, and realize there is no flatware in the whole place. Or, you'll grab something from a restaurant in the airport, take it on the plane, and realize you didn't pick up any utensils. This definitely isn't a necessary item, but I've found it useful at times.
Vapur Water Bottle – This water bottle can roll up into a very small profile. At the same time, the design allows the bottle to stand when it's filled with water. It also comes with a clip, which easily attaches to a belt loop or backpack strap (my preferred location). It's fairly easy to find bottled water when you travel, so you will be just fine without this, but if you're going to carry a water bottle this one would be my pick.
Kershaw Skyline Pocket Knife with G-10 Handle – For me, this pocket knife is as good as it gets. It is very lightweight and has a clean design. The blade is a practical size, can be opened with one hand, and locks automatically, which makes it safer to use. The built-in clip makes it easy to store and the slim profile means I barely notice it in my pocket. I rarely travel with it because you can't carry knives through airport security, but when I think about my favorite gear this pocket knife is near the top of the list.
Best Travel Toiletries
MUJI Hanging Travel Case (small) – Of all the items on this packing list, this was the hardest one to find. Most toiletry kits are way too big for my needs. After many failed attempts at customizing other bags to work for this purpose, I finally found this small hanging bag designed by MUJI, a Japanese company. It is small enough to slide into the top center pocket on the Tom Bihn Synapse 19.
I use this MUJI bag to store:
Best Travel First Aid Kit
First aid kits are important, but that doesn't mean you should pack every medical treatment known to mankind. Pack what you actually know how to use. If you wouldn't stitch up your own wound while you're at home, then don't bother packing sutures and needles for your trip. I know this may come as a shock, but they do have hospitals and pharmacies in other countries. There's no reason to act like you're going on a 1,000 mile journey through the Amazon when you're heading to Europe for two weeks.
Here's what I include in mine:
Ziploc sandwich bag – This is just a simple sandwich bag. I put all of the first aid kit items below inside it.
Advil (Ibuprofen) packets – I carry 4 or 5 of these Advil packets to use when I have a headache, fever, or otherwise need help managing pain. Each packet contains two tablets.
Claritin (Loratadine) packets – I carry 2 or 3 of these Claritin packets to use when I am struggling with allergies, have a cold, or otherwise need help drying my sinuses. Each packet contains 1 tablet.
Alcohol prep pad (1x) – I haven't used this yet, but it could come in handy to clean a wound before I bandage it up.
Regular bandaids (4x) – I carry four bandaids to cover cuts, scrapes, or blisters.
Butterfly bandaids (2x) – I carry two butterfly bandages. I haven't had to use them yet, but I keep them to treat deeper cuts.
2nd Skin patch (2x) – Many people walk more than usual while they are traveling, which means blisters can be common. These 2nd Skin patches can help protect blistered areas on your foot or ankle.
Best Travel Apps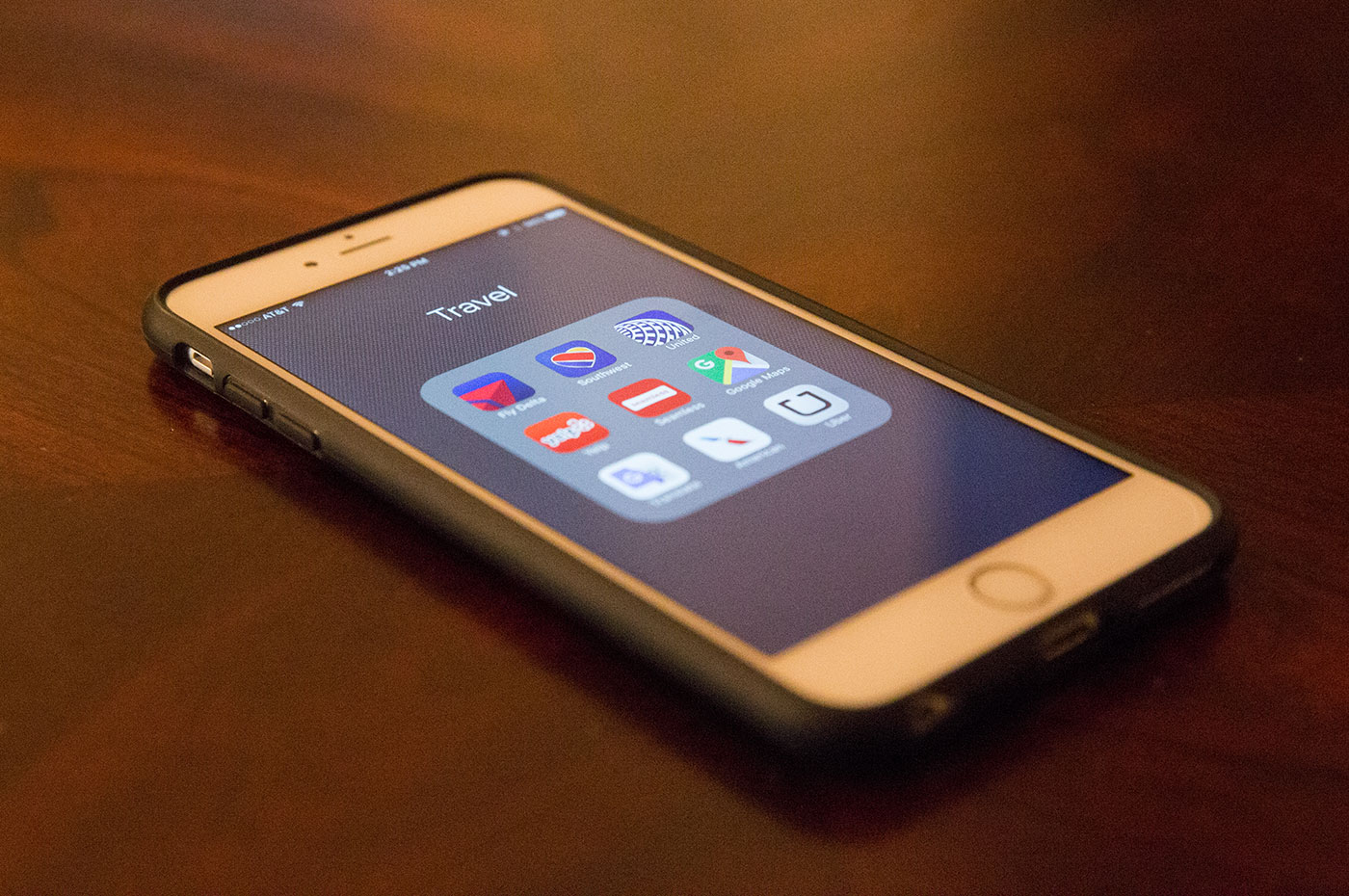 There are a variety of smartphone apps that I rely on while traveling.
TSA PreCheck (and international options) – TSA PreCheck feels like a cheat code for the airport. You get to skip the regular security line, keep your shoes and jacket on, keep your laptop in your bag, and breeze through the terminal. Anyone who flies regularly should register for TSA PreCheck. If you travel internationally, then there are similar programs that will allow you to skip the long lines at Customs and Border Protection. Global Entry will allow you to skip the regular Customs and Border Protection line when returning to the United States. APEC will allow you to skip the line when entering many countries throughout Asia and Oceania. Registered Traveller will make it faster to enter the United Kingdom. The downside of these programs is when you skip the Customs line, you don't get a stamp in your passport. It's a minor thing, but collecting stamps can be fun for travelers. Personally, if the line is short I'll wait for a stamp. If it's going to take hours, then I love having the option to skip the line.
Airline Apps: American Airlines, Delta, Southwest, United – Most major airlines have their own travel apps. I use these apps to check in and download my boarding passes before I get to the airport. Because I have TSA PreCheck and travel with just my ultralight backpack, I never have to wait in line to check-in or check my bags. I can often arrive at the airport 30 minutes before takeoff and make my flight without a rush.
Wallet – Wallet (previously called Passbook) is an app built in to all iPhones. It's where you can store digital versions of your boarding passes, tickets, and credit cards. I use it to store my boarding passes while I'm traveling.
Google.com/ncr – If you've ever traveled to a different country and used Google.com, then you may have noticed that you were sent to the local Google homepage for that country. For example, if you're traveling in France, you will automatically be redirected to the Google.fr page. I usually find this to be annoying because Google will return results in the native language (like French in this example). If you're like me and you would prefer to simply use Google.com when you travel (and when you're at home), then set your homepage to Google.com/ncr, which stands for "no country redirect." You'll be able to search Google.com, like you intended, from anywhere in the world.
Google Maps – The best maps app available. In my experience, Google Maps provides better routes, more accurate times estimates, and better traffic updates than Apple Maps.
Uber – I rarely use taxis in the United States anymore. With Uber, I land at the airport, request a car, and meet them out front 10 minutes later. Like most Uber users, I love that payment is handled automatically through the app. Although Uber already offers service in many cities around the world, I still frequently use cabs when traveling internationally. Pro tip: whenever possible, negotiate the price of your trip before you get in the cab. Occasionally cabbies will take advantage of tourists and demand outrageously high prices once you have reached your destination.
Yelp – I love food and Yelp makes it easy to find great restaurants in a new city.
Seamless – Once I find a great restaurant on Yelp, I immediately check to see if they deliver via Seamless. Seamless will show you all of the restaurants in your area and deliver anything you order (usually for free). During a week in New York City, I used Seamless to order Indian food, Peruvian food, Thai food, breakfast sandwiches, and cuban sandwiches. Each order arrived in less than 45 minutes with no additional delivery charge and for the same price I would have paid in the restaurant. I never had to worry about having cash or leaving a tip. Everything was handled through Seamless. It's the best delivery experience I've had.
Google Translate – This app is remarkable. With Google Translate, you can point your phone at any block of text in another language and the app will translate it into your language (English, in my case) directly on your screen. While traveling internationally, I have used it to verify everything from which gas pump was diesel to what ingredients were included in a particular dish on the menu. I haven't used it to translate handwriting yet, but it seems to work perfectly for any printed text. This app can ease a lot of uncertainty in countries where you don't speak the native language.
Kayak – Kayak is my preferred search engine for finding great prices on flights and hotels. I haven't had to do this yet, but I keep the Kayak app on my phone in case travel plans change and I need to book a new flight or find accommodation at the last minute. I also have the Airbnb app as another way to find accommodation.
By JAMES CLEAR